2023 7th International Conference on Civil Architecture and Structural Engineering (ICCASE 2023) is an annual conference jointly hosted by Guangdong University of Technology. This year, ICCASE 2023 will be held in Guangzhou, China during April 21-23, 2023.
The conference will mainly focus on the development of engineering structure, intelligent building, structural seismic resistance, monitoring and testing and other research fields of civil construction, structural engineering. The conference aims to provide an exchange platform for experts and scholars, engineers and research personnel of related fields.
By discussing scientific research achievements and advanced technology, we can understand the trend of academic development, broaden our horizon in research, strengthen the level of academic research and discussion, and promote the intelligent level of civil construction and structural engineering development and the industrialization of academic achievements.
1. Submit to Conference Proceedings (EI)
All accepted full papers will be published in the conference proceedings and will be submitted to EI Compendex / Scopus for indexing.
◆ EI Template download: Template, No less than 5 pages
2. Submit to other SCI journals
Fill in [L282] for the recommendation code, and you will have the priority to review and employ.
Buildings (ISSN:2075-5309,IF:3.324)

Journal of Marine Science and Engineering (ISSN:2077-1312,IF=2.744)

Frontiers in Environmental Science (ISSN:2296-665X,IF:5.411)
* All submissions must not be less than 10 pages in length, and papers should be submitted via SCI Submission System.
3. Journal of Civil Engineering and Urban Planning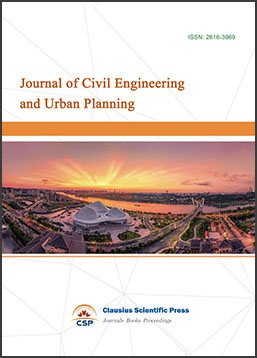 ISSN: 2616-3969
Topics: Civil engineering, transportation engineering, architecture and urban planning
Detail: https://www.ais.cn/attendees/index/MJZBQV
Note: All submitted articles should report original research results, experimental or theoretical, not previously published or under consideration for publication elsewhere. Articles submitted to the conference should meet these criteria. We firmly believe that ethical conduct is the most essential virtue of any academics. Hence, any act of plagiarism or other misconduct is totally unacceptable and cannot be tolerated.